Unique Maryland Neuroimaging Center Opens To Researchers
Published:
Friday, September 23, 2011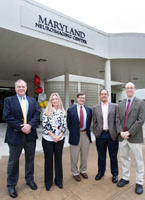 COLLEGE PARK, Md. - The Maryland Neuroimaging Center (MNC) officially opened its doors this week in the Gudelsky Building on north campus - creating a unique research facility unlike any in the Washington, D.C. region. The MNC was made possible by a $2 million award from the National Science Foundation (NSF) and by a similar investment from the university, thanks to the joint efforts of many different colleges, departments and administrative units. The MNC's signature tool - a functional magnetic resonance imaging, or fMRI, scanner - was installed last April and went live just two months ago.
A Unique Opportunity
University of Maryland President Wallace Loh said during the grand opening ceremony September 20 that the new facility "Opens up incredible opportunities for education, for undergraduates and graduates, for research and for innovation, entrepreneurship and partnerships." In fact, the research scope of the MNC will have a long reach not only across the University of Maryland campus but for outside users as well. The center will house research on memory, language, vision, and social and emotional processes and many other areas. It will be suitable for research in areas as diverse as psychology, education, engineering, national security, economics, and brain disorders.