UM Awarded $2 Million for Brain Imaging Center
Published:
Friday, August 21, 2009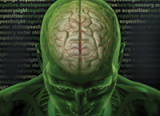 The National Science Foundation has awarded the University of Maryland nearly $2 million in American Recovery and Reinvestment Act (ARRA) funds to establish a brain imaging laboratory that will advance the leading edge, cross-disciplinary research the university is conducting in children's cognitive, social and psychological development and in children's and adults learning and processing of language.
The university's Neuroscience and Cognitive Science, or NACS, Program led the initiative to create the new Brain Imaging Center, which will bring together researchers from across campus to study the neural basis of language, emotion and thought. Distinguished university professor of human development Nathan Fox is the principal investigator of the project that involves at least half a dozen colleges and centers at Maryland. The College of Behavioral and Social Sciences will administer the $1.94 million grant announced this week.