University of Maryland Researcher Asks - What Does Love Look Like?
Published:
Thursday, February 9, 2012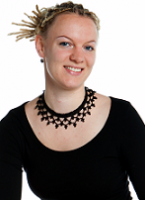 COLLEGE PARK, Md. - What does love look like? A dozen roses delivered on an ordinary weekday? Breakfast in bed? Or just a knowing glance between lovers?
While outward displays of love are fairly easy to discern, a researcher in the College of Behavioral and Social Sciences is taking a decidedly "inward" approach to documenting this most complex of human emotions.
Sandra Langeslag, an expert in biological psychology, is using brain-imaging tools such as electroencephalography (EEG) and functional magnetic resonance imaging (fMRI) to identify and assess the neurocognition of romantic love.
"I want to understand how the brain works when humans are attracted to one another," says Langeslag, a postdoctoral research fellow in the Laboratory of Cognition and Emotion.
By associating specific brain impulses with psychological data related to romantic love, Langeslag is at the forefront of research bridging the gap between emotion -- a state of mind derived from one's circumstances -- and cognition, which is acquiring knowledge through thought and experience.