This Week in Research: Love, Scientifically; Tiny Flying Robots
Published:
Friday, February 10, 2012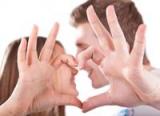 "Love is not a psychiatric disorder, but people that are in love are kind of crazy," says Dr. Sandra Langeslag, an expert in biological psychology at the University of Maryland. And while the creative among us rhapsodize about love in poems and paintings, more rational types, like Langeslag, prefer to look at love through MRIs and EEGs. "I want to understand how the brain works when humans are attracted to one another," Langeslag says, presumably beyond vague formulations like "Oh, you just know." Langeslag's research tries to bridge the gap between research on emotion (which depends on present circumstances) and cognition (which depends on thought and experience). Langeslag and her colleague, Luiz Pessoa, don't believe that the two brain processes are as separate as they're often portrayed. Langeslag's research has shown that the brains of people in love show a specific pattern of what she calls "motivated attention" when shown images of their beloved. In other words, normal human propensity for distraction (a TV show in the background? an attractive stranger walking by?) is minimized when a person is gazing at the one they love. Isn't that sweet?