Video: University of Maryland Neuroimaging Center Installs Signature fMRI Scanner
Published:
Wednesday, April 20, 2011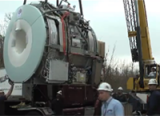 Sean McCalley reports on the delivery of a new Siemens 3T fMRI machine that will be the centerpiece for the Maryland Neuroimaging Center. The MRI machine was purchased through a $2 million NSF grant and generous contributions in resources from throughout the University of Maryland campus.
The Siemens fMRI machine was delivered to the new Maryland Neuroimaging Center in the Avrum Gudelsky Building on a rainy Tuesday, April 12, 2011.
The goal of the center is to bring together under one roof the most advanced tools currently available for observing the human brain in action. Nathan Fox, Distinguished University Professor of Human Development and principal investigator of the NSF grant, said, "We're currently seeing a revolution in how people are able to observe the brain, and a dramatic growth in the range of people who are asking about how the brain works. Some technologies are ideal for asking where brain activity occurs, others are ideal for asking when it happens. A new wave of breakthroughs will come as we learn how to combine these different strengths, and the Maryland Neuroimaging Center will put Maryland in the center of that effort."
A complete release is available on newsdesk.umd.edu. Audio with Professor Fox is available on AudioBoo.fm/umdnews.